BEST SUPPLEMENTS FOR AESTHETIC BODY
Are you in AESTHETIC  BODYBUILDING? Are you looking for the best aesthetic supplements for your body then you are in the right place.
There are no Good, Bad or Best supplements. As the name "Supplements" itself says that it is used for supplementing. The primary thing which we all must be taking care of is our natural diet & workout routine.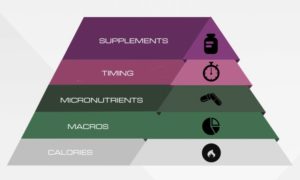 We, Will, explain AESTHETIC  BODYBUILDING  with the help of the above pyramid.
Calories should be taken care of depending on your goals (gain = surplus, loss = deficit).
Macros, depending upon your dieting strategy (for example 5% carb: 60 % fat: 35% protein in Ketogenic).
Micro-nutrients like vitamins, minerals etc.
The timing though people have two different views about it, but definitely getting 8 hours of sleep and sticking to working out under 1 hour has its own advantages.
Now comes the topmost part, supplements. We use whey protein to complete ( remember to complete not to substitute) our protein macros. We use creatine for that ATP burst. And then a few more which we cannot get from our regular diet.
Most of the bodybuilders make used/using the following supplements :
Any decent, whey protein would do the job. It should be authentic. We have used the following whey proteins
Ultimate Nutrition Prostar 100% Whey Protein – 5.28 lbs (Vanilla Creme).

Optimum Nutrition (ON) Gold Standard 100% Whey Protein Powder – 5 lbs, 2.27 kg (Double Rich Chocolate).

MuscleBlaze Whey Gold Protein, 2 kg Rich Milk Chocolate.
There are various forms of creatine available, but I stick to creatine monohydrate
Optimum Nutrition (ON) Micronized Creatine Monohydrate Powder – 57 Servings (Unflavored) (This is one of the best out there)

MuscleTech Creatine Essential Series – 400 g.
3. Glutamine:
It is used for the recovery and maintenance of muscle mass.
AS-IT-IS Nutrition L-Glutamine For Muscle Growth And Recovery – 250Gm
Sinew Nutrition Micronised Creatine Monohydrate – 300g and 100% Pure L-Glutamine Powder 330gm  (A good combo of glutamine and creatine, which is pocket-friendly).
4. Multivitamins:
The capsule is generally used as multivitamin & multi-mineral supplements which contain all day required vitamins.
HealthKart Multivitamin with Ginseng Extract – 60 Vegetarian Tablets

Amway Nutrilite Daily – 120N Tablets

(Amway is the leader in multivitamins).
Amway protein powder for bodybuilding best for muscles gain
Becadexamin Capsule most cheap price.
I Get the message from many people on social media asking for is Amway protein powder good for bodybuilding. my recommendation is Amway products are the best product ever.
5. Omega 3:
Fish oil is very important (You can just google advantages of omega 3 fatty acids and you will get the answer)
Sea Cod Liver Oil – 110 Capsules

 (does the job pretty well).
Optimum Nutrition (ON) Fish Oil Omega-3 Fatty Acids – 100 Softgels.
For anyone starting out or in this sport for fun, the above list of supplements will be enough for you to enjoy great health and look great, provided the base of a balanced diet is strong.
Extra aesthetic bodybuilding supplement for those who want to bulk in size.
For Bulking: If you can't eat enough, and are always trying to gain weight try this out
Universal Nutrition Real Gains – 3.8 lb (Chocolate Ice Cream)

one of the best lean gainers, without the unwanted clutter.
Optimum Nutrition (ON) Pro Mass Gainer – 5.09 lbs, 2.31 kg (Banana Cream Pie)
Aesthetic bodybuilding workout plan
Aesthetic Bodybuilding is rising more popular all of the time.  we will discuss workout plan in some other blog post soon.